Polyuria waterproofing in New York City.
Our waterproofing services are offered to commercial and residential buildings in New York City and surroundings areas. We collaborate with property owners, home builders and condo associations. This service protects the building from adverse temperatures and storm damages.

A spray or liquid coating known as Polyurea – which is a waterproofing material- is applied to basements, and flat roofs. This material forms a waterproof coating over the existing building material or space. These areas affected by water seepages, dampness, and rain. In addition,
Polyuria is a proven material to be used on steel and concrete surfaces.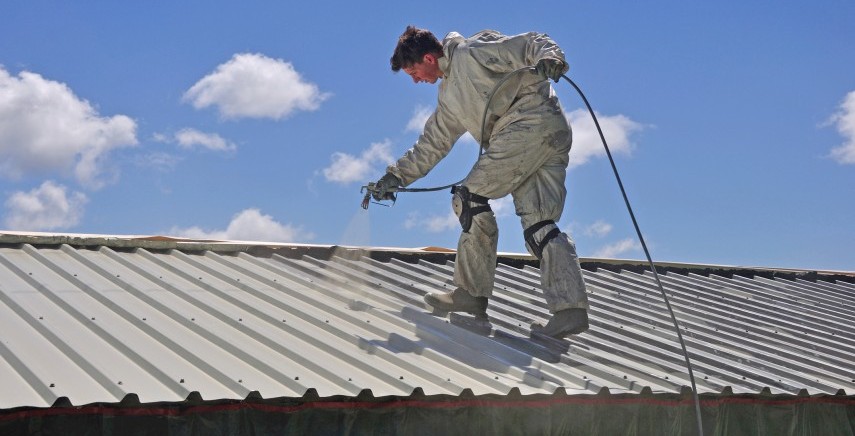 Polyurea waterproofing roofs in New York
---
Polyuria is a protective coating which seals leaks. Making the area stronger and able to withstand water problems to increase its lifespan. It has the capacity to resist the effects of chemicals on roof surfaces which is as a result of manufacturing activities in the building or nearby buildings. In fact heat could be prevented from being transferred to the building if ultra-violet colors like white is added to polyurea.

Apart from being applied to basements, it can be sprayed on metals, wooden materials, and foam roofs due to its lightness. This waterproofing membrane can be applied on old roofs saving the owner from making additional roof expenses.
---
Polyurea waterproofing basements in New York City
---
One of the major signs to look for whern checking a basements before waterproofing, is cracks in walls and damps. Once found they should be treated with efflorescence –alkaline material made of salt and minerals from concrete exposed to moist, to seal them completely. Applying a waterproofing layer will also eliminate rodents and crawling insects to get inside the building.
Adding additives to polyuria has its own advantages such as making the floor slip resistant.

Once the basement is waterproofed, it can be used for additional storage.

Contact us at Skyward roofing for a free cost estimate for your basement waterproofing.
Our Dedicated Customer Support Agents Are Available To Answer All Your Questions. Call Today
Monday - Friday, 09:00 AM - 05:00 PM